In the future, the year 2022 might become known as the year that was pivotal in workplace management. As many countries were still flickering between lockdowns in early 2022, a new way of working emerged. Hybrid working turned out to be a very natural way of working. An evolution from the combination of the personal benefits of working from home and the social collaboration benefits of working at the office. In March 2022, the online event: how to make hybrid work a success guided attendees to this new way of working.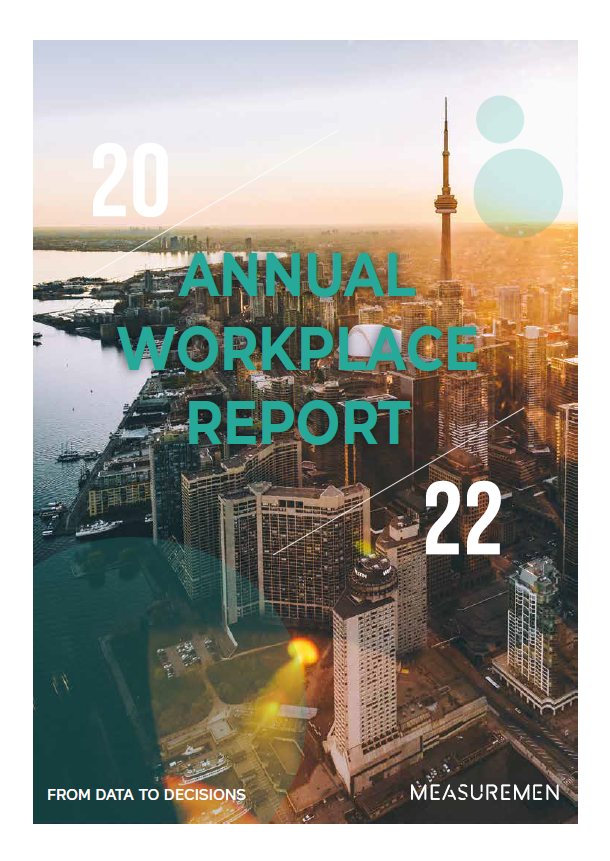 When the offices opened up and organisations needed data on actual usage again to make decisions, the effects of hybrid working were directly noticed. Working remotely was well-received, leading to individuals commuting to the office for only a few days per week. But contrary to Measuremen's expectations, data showed that the office did not become the social clubhouse that everyone was talking about. In May, a first article was published about this. In a follow-up analysis, in June, Measuremen showed that people were starting to use the office in a different way, like more individual calling and video-conferencing in the meeting facilities. Considering the low occupancy and high percentage of individual and digital work at the office, concerns raised about loneliness at the office as a threat to hybrid working.
The Annual Workplace Report 2022 delves deeper into the progress of office occupancy and utilisation for the remainder of the year. Moreover, the accumulation of all projects gave much more reliable insights gathered across various industries. Are we truly adopting hybrid working or are we bouncing back to our old way of working? In this Annual Workplace Report, Measuremen looks back to the pre-pandemic data, to understand how the world of work and workplaces have changed. And using both old and new data, expectations can be made of how it will become.